Facial/Treatment Enhancements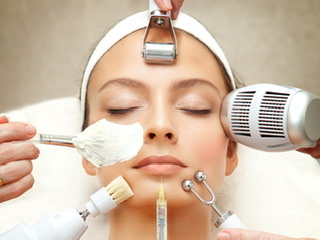 HYDROJELLY MASK
10 MINUTES
A Hydrojelly mask has some great potential skin benefits. One problem many people face with their skin is its ability to hold onto the right amount of moisture and have a solid balance. Hydrojelly masks work to boost your facial moisture balance and fully exfoliate and enrich your skin for a beautiful healthy and hydrated look.
These masks also with a range of options with a full range of benefits to perfectly fit you and your skin's needs. From enhancing your skin's barrier function, replenishing moisture, detoxifying, alleviating rashes and sunburn, cleansing, reducing inflammation, to exfoliating; these masks have the potential to help you no matter your skin issues. The bright beautiful glow you have always wanted can be just one hydrojelly mask away!
(Facial add on only)
$25
NECK AND DÉCOLLETÉ
NO ADDED TIME Your neck and décolleté area need love too! This can be added onto any facial treatment to give that extra TLC to an area that usually isn't given much love. We will drag down all products to the neck and décolleté area to help protect them too!
$35.00 (standard facial)
$45.00 (HydroGlow)
EYE TREATMENT
10 MINUTES
Oh la la, a mini facial for your eyes. Your eyes will be thoroughly cleansed, massaged to help increase circulation, an eye mask will be applied based off of your concerns and we will treat with an eye cream. PCA's oxygenating trio will be utilized in this treatment helping to improve fine lines, dark circles and puffiness. Microcurrent will be utilized to help lift and firm eye area. Perfect add on to an eyebrow wax
Add on to facial or eyebrow wax only (not booked as a stand alone service).
$35.00
LIP TREATMENT
NO ADDED TIME
Boost and plump your lips with this feel good add on. We will start by cleansing the lip area, gently exfoliate with a lip scrub, lip scrubbing brush and apply a hydrating lip mask while your face mask is on. Finish off your lip treatment with a plumping gloss.
$20.00 (add on to facial only)
OXYGENATING TRIO
NO ADDED TIME
This advanced, pro-B vitamin-rich treatment paired with an oxygen-boosting application works to deliver oxygen into the skin while also fighting common signs of aging. The oxygen-boosting application provides quick and effective penetration, skin-plumping action, and a reduction of fine lines and wrinkles.
Recommended as a peel alternative, great add on before a wedding day glow or prior to a big event, public speaking or photoshoot.
$50.00 (added onto facial only)
MICROCURRENT
40 MINUTES
Microcurrent is like a workout for your face! Microcurrent is capable of facial stimulation, sending soft, gentle waves through the skin, tissues and down to the facial muscles. Microcurrent has been shown to stimulate ATP production. ATP is known as Adenosine triphosphate which drives the creation of key structural proteins, such as collagen and elastin, and is the biochemical way to store and use energy. This increased ATP also energizes the facial muscles, similar to how exercise energizes the muscles of our bodies. Unlike anywhere else on the body, the facial muscles are directly connected to the skin, so the result of energizing the muscle is often an improved, lifted appearance. Boost your collagen and elastin today by adding this amazing professional treatment onto you facial! There are some contraindications that your professional will check with you before preforming.
$75.00 (stand alone)
$50.00 (added onto facial)
HAND TREATMENT
15 MINUTES
It's been said that you can always tell a celebrities real age by looking at their hands. Don't let this be the case for you. We use are hands all the time and they are exposed to all of the elements. For this treatment we will exfoliate the front and back of the hands. After exfoliation, enjoy a hand massage. We will then apply a hand mask to help hydrate and soothe your hands. While your mask is on, enjoy a an arm and shoulder massage. To finish off your hand treatment lotion will be applied.
$25.00 (added onto facial only)
FOOT TREATMENT
15 MINUTES
Always on your feet? We are here to help. This treatment includes a foot scrub to exfoliate dead skin cells, a foot massage, and a soothing lotion to help rehydrate the skin surface. Add on to any facial treatment for some extra TLC.
$25.00 (added onto facial only)
*Please note that when booking there is a non-refundable deposit set for all treatments the remaining balance of service is still due at the end of treatment. Please check policies for more details. Prices are subject to change at anytime without notification*